Casu­al­ly men­tion water fil­tra­tion or water fil­ters around just about any­one and the first image that pops into their head will most like­ly look some­thing like a Bri­ta fil­ter. We have one thing to say about that: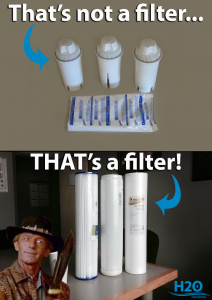 Just as Paul Hogan knew what a real knife was in Croc­o­dile Dundee, your region­al water treat­ment and fil­tra­tion experts know what a real water fil­ter looks like and how it can tru­ly help the qual­i­ty of water in your home.
Water Testing
&

Water Filtration
Because water in the New Eng­land area is known for var­i­ous types of con­t­a­m­i­nants and impu­ri­ties, the first step in cor­rect­ing the prob­lem is a pro­vid­ing you with a water test so we know how to effec­tive­ly address the issues. The types and quan­ti­ties of var­i­ous poten­tial con­t­a­m­i­nants or unwant­ed min­er­als will lead to the appro­pri­ate type of water fil­tra­tion sys­tem. Some hous­es need Reverse Osmo­sis Purifi­ca­tion, some need Radon and Arsenic removal, some need water soft­en­ing, and oth­ers need a dif­fer­ent type of water fil­tra­tion sys­tem.
A Whole House Fil­tra­tion sys­tem deliv­ers con­di­tioned water to all areas of the home that would ben­e­fit from clean­er water. If your drink­ing water is fil­tered through a Bri­ta, it is remov­ing some % of the chlo­rine and oth­er con­t­a­m­i­nants in the water to improve taste, how­ev­er its affect is lim­it­ed due to lim­it­ed sur­face area and con­tact time with the small car­bon fil­ter.
For more infor­ma­tion about drink­ing water sys­tems, see the link at http://h2ocare.com/point-of-use-drinking-water-purification/. For oth­er infor­ma­tion about whole home water fil­tra­tion or water soft­en­ers, see the link to our home page at http://h2ocare.wpengine.com. As pre­vi­ous­ly men­tioned, the most effi­cient and pru­dent approach to deter­min­ing if you need a water fil­tra­tion sys­tem or water soft­en­er is to start with a water test. This will lead to the best solu­tion to improve your home's water qual­i­ty. The dif­fer­ence can be quite sur­pris­ing and sat­is­fy­ing as well.