The fol­low­ing dis­cuss­es poten­tial water qual­i­ty issues or con­cerns as well as water fil­tra­tion options for restau­rants in Cam­bridge, Mass­a­chu­setts.
(H2O Care was for­mer­ly a divi­sion of: Atlas Water­sys­tems, Inc.)
---
HOW

HARD

IS

THE

CAMBRIDGE

WATER

SUPPLY

?

Water hard­ness refers to the min­er­al con­tent of water, com­mon­ly cal­ci­um and mag­ne­sium. Cam­bridge water is "slight­ly to mod­er­ate­ly hard" and varies slight­ly through­out the city. Hard­ness also may vary some­what by sea­sons of the year. When using dish­wash­ers, you may notice a slight increase in "spot­ting or streak­ing" on glass­ware, flat­ware or white residue in kitchen­ware. This residue con­sists main­ly of cal­ci­um car­bon­ate, the same ingre­di­ent found in anti-acid prod­ucts and not a known health risk, but an annoy­ing aes­thet­ic prob­lem that makes for a bad pre­sen­ta­tion to cus­tomers. Addi­tion­al­ly, some equip­ment man­u­fac­tur­ers spec­i­fy water qual­i­ty para­me­ters in their users man­u­al which could ren­der war­ranties unen­force­able if not adhered to. On-going hard water can also even­tu­al­ly have a neg­a­tive impact on your water using appli­ances with poten­tial pre­ma­ture break­downs, etc. A prop­er­ly spec­i­fied, installed and main­tained water soft­en­er can imme­di­ate­ly solve the issue of hard water in your Cam­bridge sup­plied water.

Accord­ing to the Cam­bridge Water Depart­ment, the hard­ness of the city's tap water is typ­i­cal­ly around 40 to 60 parts per mil­lion or 3 to 4 grains per gal­lon. See the chart below for com­par­i­son.
TASTE

&

ODOR

ISSUES

/

PREMATURE

EQUIPMENT

BREAKDOWNS

?
BAD
ODORS
&
TASTES
IN
YOUR
WATER
While symp­toms of water qual­i­ty issues such as bad odors & taste, stain­ing of bath­room fix­tures & laun­dry, pre­ma­ture equip­ment break­downs etc. are indi­ca­tors of prob­lems, the pre­ferred start­ing point is to get a water test to iden­ti­fy the min­er­als or con­t­a­m­i­nants in the water and at what quan­ti­ty they exist. This will lead to an effec­tive sys­tem rec­om­men­da­tion and route to pro­vid­ing excel­lent on-going water qual­i­ty for drink­ing, wash­ing, etc. There are var­i­ous approach­es to pro­vid­ing your restau­rant with bet­ter qual­i­ty ice, good tast­ing water, improved bev­er­age taste and improved water qual­i­ty to feed your dish­wash­ers to avoid streak­ing on glass­es and din­ner­ware.
WATER
FILTRATION
&
WATER
SOFTENER
SYSTEMS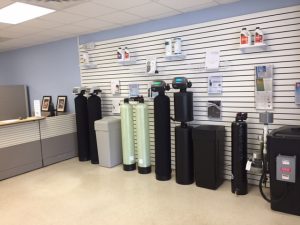 Var­i­ous types of water fil­tra­tion sys­tems are avail­able for the removal of any of the poten­tial caus­es of symp­toms you may be expe­ri­enc­ing. Water soft­en­ers are typ­i­cal­ly installed to remove hard water min­er­als, dis­solved iron or man­ganese from the water through a tech­nol­o­gy called Ion Exchange. To remove par­tic­u­late iron or man­ganese, a prop­er­ly sized sed­i­ment fil­ter is required. Bad tastes & odors, which may be the result of the chlo­ramine added into the water sup­ply for dis­in­fect­ing pur­pos­es, can be removed with a car­bon fil­tra­tion sys­tem. Addi­tion­al­ly, to cre­ate very pure drink­ing water, a reverse osmo­sis sys­tem can be installed, which uti­lizes the same tech­nol­o­gy used to pro­duce both Aqua­fi­na, Dasani and some oth­er bot­tled waters. There are var­i­ous sized reverse osmo­sis sys­tems to match the vol­ume demands required.
Any water fil­tra­tion sys­tem or water soft­en­er rec­om­men­da­tion in Cam­bridge should start with a water test before an informed deci­sion can be made. To deter­mine what type of water test­ing to have per­formed and how to take a prop­er sam­ple, call a water treat­ment pro­fes­sion­al or a state cer­ti­fied lab­o­ra­to­ry.
In sum­ma­ry, con­trol­ling your water qual­i­ty is attain­able through prop­er water test­ing and equip­ment spec­i­fi­ca­tion with today's avail­able water fil­tra­tion tech­nolo­gies at a rea­son­able price. Prop­er on-going main­te­nance is also crit­i­cal to main­tain a con­sis­tent lev­el of great water qual­i­ty.
H2O

Care is an established, Massachusetts based water filtration and testing firm, formed in 1989 with offices in Middleton and Hudson, Mass. Articles published by the Company can be seen in Water Technology Magazine or linked through the publications section on our website at http://h2ocare.wpengine.com. You can contact us by email at [email protected] or call us at 800–539-1100.