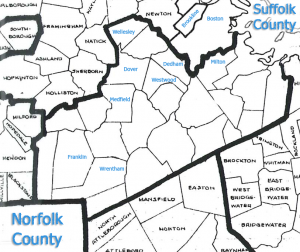 Suf­folk Coun­ty is the seat of Mass­a­chu­setts' largest city and cap­i­tal, Boston. The city makes up the pre­dom­i­nant area of the Suf­folk coun­ty with Revere, Chelsea and Winthrop adja­cent to the North.
Boston Drinking Water
Boston's drink­ing water comes from two source reser­voirs in cen­tral and west­ern Mass­a­chu­setts, the Quab­bin and the Wachusetts Reser­voirs. In addi­tion to the reser­voirs, the sys­tem includes sur­face aque­ducts, cov­ered stor­age tanks, treat­ment facil­i­ties and deep rock tun­nels. This sys­tem is known as the Met­ro­pol­i­tan Boston Water Sys­tem. The Mass­a­chu­setts Water Resources Author­i­ty (MWRA) and the Depart­ment of Con­ser­va­tion and Recre­ation (DCR) joint­ly man­age the Met­ro­pol­i­tan Boston Water Sys­tem. The MWRA pro­vides treat­ment and dis­tri­b­u­tion of drink­ing water to 50 com­mu­ni­ties in the met­ro­pol­i­tan area, includ­ing Boston. The DCR man­ages the lands adja­cent to the source reser­voirs and is respon­si­ble for keep­ing the reser­voirs free from water qual­i­ty con­t­a­m­i­na­tion to the great­est extent pos­si­ble. And final­ly, Boston Water and Sew­er Com­mis­sion (BWSC) deliv­ers the water to homes and busi­ness­es through­out the City of Boston.
As one of MWRA's water com­mu­ni­ty mem­bers, BWSC rep­re­sents approx­i­mate­ly 33 per­cent of the cur­rent demand on the MWRA water sup­ply. As indi­cat­ed above, BWSC's water comes from the Quab­bin Reser­voir and the Wachusett Reser­voir, locat­ed about 65 miles and 35 miles west of Boston, respec­tive­ly. The two reser­voirs com­bined sup­plied an aver­age of 214 mgd (mil­lions of gal­lon a day) to con­sumers in 2007. The safe yield of the reser­voir sys­tem is 320 mgd.
Water dis­trib­uted to the Boston met­ro­pol­i­tan area is con­veyed from the reser­voirs through the Cos­grove or Wachusett Aque­ducts and treat­ed at the MWRA's John J. Car­roll Water Treat­ment Plant at Wal­nut Hill in Marl­bor­ough. Treat­ment includes ozone dis­in­fec­tion, pH adjust­ment with sodi­um bicar­bon­ate and the addi­tion of chlo­ramines and flu­o­ride. Water leaves the plant through the Metro west Water Sup­ply Tun­nel and is stored in cov­ered stor­age tanks, such as Norum­be­ga Reser­voir and the Lor­ing Road Tanks, where it is held for deliv­er to the BWSC ser­vice net­works. MWRA mains dis­trib­ute water to the BWSC sys­tem at 29 metered deliv­ery points.
Water Quality Issues in Suffolk County
Water qual­i­ty issues typ­i­cal­ly addressed by res­i­dents includes chlo­rine taste and odor and high lev­els of sed­i­ment in the water cre­at­ing clog­ging of faucets and show­er heads along with hot water heater build up. Appro­pri­ate point of entry sed­i­ment and car­bon fil­tra­tion can typ­i­cal­ly address these issues. To achieve pre­mi­um drink­ing water qual­i­ty, many home­own­ers have had reverse osmo­sis fil­tra­tion sys­tems installed. This mem­brane tech­nol­o­gy is high­ly effec­tive in cre­at­ing pre­mi­um puri­fied drink­ing water under most con­di­tions.