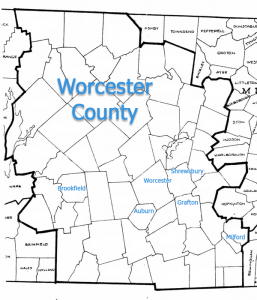 Worcester County History
Worces­ter Coun­ty is the sec­ond largest coun­ty in Mass­a­chu­setts by area and pop­u­la­tion, host­ing the sec­ond largest city in Mass­a­chu­setts and New Eng­land, the City of Worces­ter. Some inter­est­ing past and cur­rent res­i­dents include, John Adams, our sec­ond Pres­i­dent, who taught in the Worces­ter school sys­tem, Clara Bar­ton, founder of The Red Cross, born in Oxford in 1821, John Chap­man ("John­ny Apple­seed") born in Leomin­ster in 1774 and Abbie Hoff­man, Six­ties rad­i­cal – born and raised in Worces­ter, 1937, to name a few.
Worcester County Water Quality
The water qual­i­ty issues encoun­tered in Worces­ter Coun­ty are not unlike most of the oth­er coun­ties, how­ev­er, there are areas that are known to expe­ri­ence above aver­age rates of arsenic in water and radon in water, such as Har­vard, Bolton and Berlin. For exam­ple, accord­ing to the DPW in Har­vard, approx­i­mate­ly 20% of pri­vate wells con­tain unhealthy lev­els of arsenic with an even high­er per­cent­age with high lev­els of radon in that town. Towns such as Grafton, South­bor­ough, Shrews­bury and North­bor­ough have the typ­i­cal high iron in water, man­ganese in water and low pH that we com­mon­ly find in New England's well water. Water fil­tra­tion and/or water soft­en­er tech­nol­o­gy to remove these con­t­a­m­i­nants from water is very effec­tive in pro­vid­ing safe, clean water. To deter­mine the most appro­pri­ate water soft­en­er or water fil­tra­tion sys­tem, an ini­tial water test must be per­formed to iden­ti­fy which con­t­a­m­i­nants must be removed and at what lev­els.
For more infor­ma­tion about Radon in water in Har­vard, Bolton, Berlin and oth­er towns in Worces­ter Coun­ty, see the fol­low­ing link http://county-radon.info/MA/Worcester.html. For more infor­ma­tion about arsenic in water, see the link at Arsenic in Drink­ing Water
Water soft­en­ers, radon removal sys­tems which work with agi­ta­tion and vent­ing, arsenic removal which is done with an arsenic spe­cif­ic type of resin which "grabs" the arsenic in water and reverse osmo­sis sys­tems are rec­om­mend­ed for the var­i­ous water con­t­a­m­i­nants.