Reverse Osmosis is used by the major bottled water companies
Reverse osmo­sis is the same tech­nol­o­gy that is used to puri­fy mil­lions of bot­tles of water annu­al­ly. It is sold in your local gro­cery and con­ve­nience stores as Dasani, Aqua­fi­na, and a host of oth­er brands. RO, or reverse osmo­sis, is a mem­brane based tech­nol­o­gy that has been used for decades as a reli­able and safe way to puri­fy water. It was ini­tial­ly devel­oped and used as a method to desali­nate sea water and is still used world­wide for this pur­pose. The suc­cess of this tech­nol­o­gy evolved to small­er sys­tems where you can now sig­nif­i­cant­ly upgrade your home's drink­ing water sup­ply afford­ably and quick­ly.
The taste of RO puri­fied water is deli­cious, remov­ing unwant­ed chem­i­cals and impu­ri­ties. Your water becomes more refresh­ing with an over­all clean and pure after­taste. You will have a vir­tu­al­ly unlim­it­ed sup­ply for your fam­i­ly.
How Reverse Osmosis Works
A Reverse Osmo­sis sys­tem works by forc­ing water against a syn­thet­ic mem­brane filled with micro­scop­ic holes through which only puri­fied water can pass. The pore sizes are actu­al­ly small­er than a bac­te­ria or even a virus (see dia­gram below). Impu­ri­ties are trapped on one side of the mem­brane and are divert­ed away to drain, while the puri­fied water moves through it and into a pres­sur­ized stor­age tank. The stor­age tank and purifi­ca­tion sys­tem can be installed either under the kitchen sink or in the base­ment with a line feed­ing the puri­fied water up to a sep­a­rate­ly installed faucet. The set­up is easy and you don't have to wor­ry about rebuild­ing or per­ma­nent­ly mov­ing cab­i­nets to accom­mo­date the sys­tem. It's like hav­ing your own mini bot­tled water fac­to­ry, with­out the bot­tles. See the fol­low­ing link for more detail on the sci­ence of reverse osmo­sis How reverse-osmo­sis works.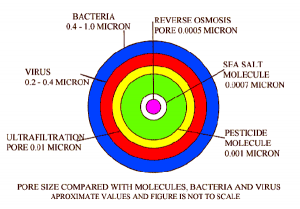 As men­tioned ear­li­er, Reverse Osmo­sis was orig­i­nal­ly invent­ed for use in desali­nat­ing sea water and is increas­ing being used for this pur­pose today world­wide. Reverse Osmo­sis sys­tems are used through­out the world to sup­port the increas­ing fresh water needs of grow­ing pop­u­la­tions both domes­ti­cal­ly and inter­na­tion­al­ly. In cas­es where desali­na­tion of a pri­vate well is required due to salt water intru­sion (Salt Water Intru­sion Page Link), a larg­er scale RO sys­tem would be designed and installed to meet the entire water demand of the home. These sys­tems are typ­i­cal­ly installed in the base­ment of the home and require much more equip­ment, pre-fil­tra­tion and stor­age than the under-sink, point of use Reverse Osmo­sis sys­tems.