This article is written for residents or prospective residents of North Andover, MA.
Residents of North Andover have their homes supplied by either the town's public water supply or their own private well.  The following discusses both situations with regard to potential water quality issues or concerns:
PUBLIC WATER SUPPLY
With the exception of a scattering of private wells, North Andover's drinking water primarily comes from Lake Cochichewick.  It is considered a "surface" source. The lake has a length of 2.65 miles and a width just under 3/4 of a mile with 7.35 miles of shoreline. The maximum water depth of the lake is approximately 45 feet, with an average depth of 23 feet. The watershed, which in essence is an extension of the lake, has an area of approximately 2,732 acres that drains toward the lake from runoff, springs, and brooks. The lake holds approximately 4.3 billion gallons of water.  The water is treated at the water treatment facility prior to distribution to your homes for pH and bacterial control as well as other water quality parameters.
The following is a link to the Annual Drinking Water Quality Report, which is made available every year.  This report includes Sampling results and other pertinent information regarding your North Andover public water supply: North Andover Annual Water Quality Report
Common Private Well Water Quality Issues in North Andover & Filtration Options
The most common calls received from North Andover residents with private wells for water filtration systems is with regard to correcting high levels of Iron and also Radon in water.
DISCOLORATION & STAINING FROM IRON
Discoloration and staining can be caused by many things in the water supply.  In North Andover, the main source has typically been determined to be elevated levels of iron, a mineral that is common in Massachusetts water supplies due to the naturally occurring bedrock.
SOLUTION:  Iron can be removed with sediment filtration and water softening (Ion Exchange) technology.  Particulate iron (which you can see in the water) will be removed with the proper sediment filtration while dissolved iron (not visible) can be removed with a water softener.  For more information on Iron in water, see the link at our Water Technology Magazine article at: Iron Article in Water Technology Magazine
RADON IN WATER & FILTRATION
If the testing results for Radon exceed the current Massachusetts guideline of ten thousand (10,000) pCi/L in water, then the radon must be removed from the water.  It is also recommended that testing the air for Radon is performed as well.  It should be noted that New Hampshire requires action if radon is only 2,000 pCi/L (pico curries per liter).  Maine and Rhode Island are at 4,000 pCi/L as an action level.  See the following link for more information regarding radon and potential health threats: Radon Facts
Removing radon from water requires a system in which the water is agitated in a concealed chamber, then properly vented outside the home to ambient air.  Carbon filtration has been used for lower levels of radon, but the carbon holds onto the radon and can cause a potentially dangerous situation over time as radon builds up in the carbon tank.  For this reason, it is recommended this approach is not taken.
Other technologies and systems are used to remove other contaminants if found and require removal.   Any water filtration system designed should start with a water test before an informed recommendation can be made. (see below for more information on water testing)
For general information regarding private wells and your responsibility as a homeowner with regard to testing and maintenance, see the following link provided by the Massachusetts Department of Energy & Environmental Affairs Private Well Responsibilities
Water testing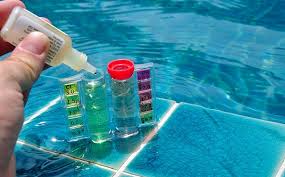 As a home buyer or seller, there are always questions that come up regarding testing the water when a home is serviced by a private well.  If you are buying, have bought or are selling a home that is serviced by a private well, you will need to make sure it is tested.
Water testing should be conducted by an EPA or Massachusetts state certified laboratory and should include minimally, an analysis for the parameters in the table below.  If you are uncertain as to how to take a proper sample and get it to a lab, you should contact a water treatment professional or a lab for assistance.  Typical items tested for are as follows (but not limited to):
| | |
| --- | --- |
| Coliform bacteria | pH |
| Arsenic | Radon |
| Chloride | Sodium |
| Iron | Sulfate |
| Lead | Conductivity |
| Manganese | Nitrogen-Nitrate |
| | |
It is always recommended that you start your process of determining what type of water filtration system you need with a water test.  Once the test results are available and analyzed by a water treatment professional, the proper type of system can be determined.
H2o Care, Inc. was formed in 1989 as a full service water testing and filtration systems installation and service organization.  Based in Middleton, MA on route 114, the company website is at http://www.h2ocare.com.  The company has been published in Water Technology Magazine several times for contaminants common to this region.  See the publications tab on the company website.