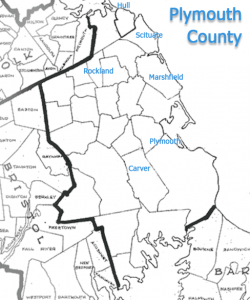 Land
&

Water in Plymouth County

The dom­i­nant land uses of Ply­mouth Coun­ty are forest­land (pre­dom­i­nate­ly White and Pitch Pine, Oak, and Red Maple), res­i­den­tial and com­mer­cial devel­op­ment, and cran­ber­ry agri­cul­tur­al pro­duc­tion evi­denced by the many bogs seen when dri­ving through.

Water sup­ply to towns and cities in Ply­mouth Coun­ty comes from sur­face waters (lakes, ponds and reser­voirs), ground water wells locat­ed in sand and grav­el aquifers and from deep bedrock wells. There are over 450 ponds, lakes and reser­voirs in Ply­mouth Coun­ty total­ing approx­i­mate­ly 19,970 acres. Their size ranges from less than an acre to over 2,000 acres. From Hing­ham and Hanover in the north to Bridge­wa­ter and Lakeville to the west, and Ply­mouth and Kingston to the South­east, water qual­i­ty issues typ­i­cal­ly addressed are the removal of iron and man­ganese from well water, the neu­tral­iza­tion of low pH or cor­ro­sive water and the cor­rec­tion of unpleas­ant tastes and odors. Deter­min­ing the most appro­pri­ate water fil­tra­tion and/or water soft­en­er sys­tem can be deter­mined sub­se­quent to a water test and analy­sis.
Arsenic and Radon in Plymouth County,
MA

Water

For infor­ma­tion about radon in Ply­mouth Coun­ty, see the fol­low­ing link http://county-radon.info/MA/Plymouth.html. For more infor­ma­tion about arsenic in well water see the link at http://www.mass.gov/eea/agencies/massdep/water/drinking/arsenic-in-private-well-water-faqs.html

Arsenic removal from well water, which is done with a water fil­tra­tion sys­tem con­tain­ing an arsenic spe­cif­ic type of resin which "grabs" the arsenic is very effec­tive in remov­ing this con­t­a­m­i­nant. Sed­i­ment and car­bon fil­tra­tion and reverse osmo­sis sys­tems may be rec­om­mend­ed for the var­i­ous oth­er water con­t­a­m­i­nants.

Radon removal from well water is achieved with a water fil­tra­tion sys­tem that agi­tates the incom­ing water in a sealed cham­ber, releas­ing the radon gas and vent­ing to the out­side to mix with ambi­ent air away from the home. These sys­tems are very effec­tive in elim­i­nat­ing this dan­ger­ous con­t­a­m­i­nant.