Case Studies
The following is a small sample of case studies describing the water quality issue and water filtration solution that corrected the problem. If you are interested in other case studies that may address your particular issue, email us and we can provide it to you.
CASE STUDIES WITHIN DIFFERENT TOWNS
High Iron, Heavy Sediment, High Arsenic
For a fairly large home in Dover, Mass., the well tested high for iron and arsenic and also contained heavy levels of sediment showing up in faucets, shower heads, etc.  Not only was this water bound to cause some major aesthetic and mechanical problems, the arsenic level was a serious health threat.  We recommended and installed a twin water softener system along with a "Lead-Lag" Arsenic removal system and a high capacity sediment filter.  The water has tested out absolutely great with all issues corrected and excellent water quality now enjoyed by the family for everything from drinking to showering, cleaning, etc.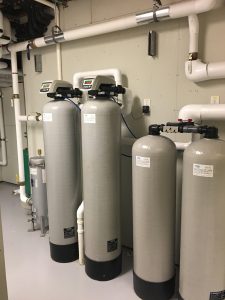 Private Well Water Causing
Orange

Staining and Corrosion

A Salisbury family with private well water was experiencing severe water quality issues, including orange staining and corrosion throughout their home. After water testing, we determined the cause to be a high concentration of iron in the water, combined with a low pH level. Click "read more" below to continue.

Read More >>
Town Water Causing Staining, Corrosion and Skin Problems
An Ashland family with town-supplied municipal water was experiencing staining and corrosion inside their home, as well as skin irritation and sensitivity as a reaction to the impurities in the water.
Read More >>
Unsightly Staining In Laundry and On Fixtures
A Boxford family was dealing with water that seemed drinkable but caused unsightly staining, creating concern about the overall safety of the water.  H2O Care was called and determined that hard water and high iron levels were to blame. For more, click below on "read more".
Read More >>
Arsenic level exceeding EPA limit prevented sale of home  
A Middleton, Mass. homeowner needed to sell her home prior to moving to a new area, but had high levels of arsenic as well as extremely hard water coming from her private well. Click below to read more.
Read More >>
Radon in private well water exceeded EPA limit
A Hopkinton, Mass. homeowner had the duel problem of excessive radon levels in the water as well as very low pH, at a very corrosive 5.8 level. (The water was tested at a state certified lab) – Click below for more.
Read More >>
CASE STUDIES  CASE STUDIES CASE STUDIES
Salt water intrusion into well made water non-potable
A homeowner situated near a salt marsh in Essex, Massachusetts was experiencing salt water intrusion into their private well. The water was very destructive to piping and non-potable. We installed a whole house reverse osmosis system to desalinate the water, providing them with a continuous supply of purified water. We get requests for about 6-8 of these systems per year for various reasons.