H20 Care was founded by Mark St Hilaire with the help, support and investment of its employees. Bobby Lavin, Master plumber, to Mark's left has been involved since the start. Early in his career as a Master Licensed Plumber, Mark was put in front of many homes with plumbing issues related to the incoming water quality. After taking numerous water quality courses, tests, etc., and armed with a wealth of experience fixing water quality issues, in 1989 he formed Aqua Tech Water Systems. The business currently has over 12,000 water filtration and water softener systems installed in the New England area. In 1999 Aqua Tech entered into a merger with Atlas Water Systems, Inc. (then of Newton, MA). The merger of the two companies combined the commercial water quality expertise of Atlas Water Systems with the residential expertise of AquaTech Water Systems and greatly expanded the geographical service area.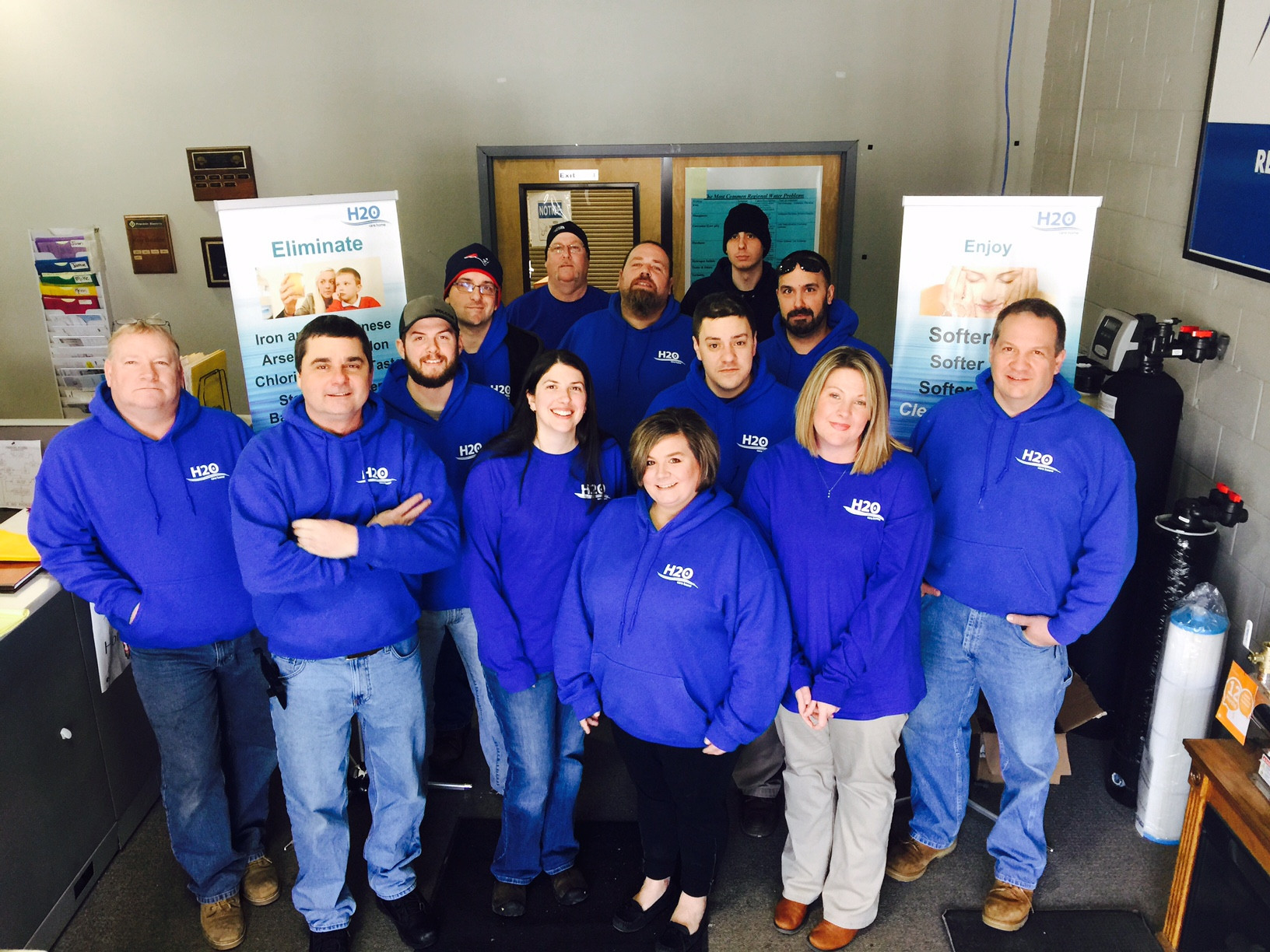 Because we care about our clients…
Karl Johnson
"When it was time to address the water issues at our present home, H2O Care was my first choice. This is the second property where I've had a system installed by this company. The pricing is competitive and–more importantly–the people are responsible and responsive."

For the next 15 years, Mark served as the Director of the Residential systems group in New England and was considered one of the top companies nationally with industry recognition. The group also did a fair amount of commercial work for buildings' point-of-entry systems, restaurants and other light commercial applications. The company was often cited for it's creative water quality solving abilities in industry magazines along with very high customer retention and satisfaction.
We have tested many types of water softeners, reverse osmosis and other filtration systems throughout the years so that you don't have to, and we continue to do so. This testing has enabled us to provide a better selection of reliable and durable equipment to effectively and consistently improve water quality.
In June, 2014, Atlas Water Systems was acquired by Quench USA, a national provider of filtered water for businesses in North America.  Quench integrated Atlas' commercial drinking water and high purity water operations, which align closely with their existing core businesses. However, on October 31st 2014, H2O Care, Inc. was formed to purchase the Atlas Water Systems' Residential Systems Group business from Quench USA and run as an independent, focused company.  Only the name has changed . . . the same staff stands behind H2O Care and we continually strive to provide you with excellent water quality on a consistent basis!  We continue to add and train new employees as we grow and build an even stronger organization with which to be of service to you.
THE NAME HAS CHANGED, BUT NOT OUR FOCUS!
H2O Care is committed to what brought us successful growth over the years; you our customers. Your feedback about us has been invaluable to our continued success. Our employees take pride in providing you and your family consistently great water quality. We appreciate the trust you have afforded us as a part of Atlas Water Systems and we will continue to earn your trust and respect as H2O Care.
Please know that we welcome the opportunity to speak with you to answer any questions you may have.  We also appreciate any feedback you may have to help us improve our services even more.   You can reach us by email or call (800) 539-1100