ARSENIC
REMOVAL
FROM
WATER
Remov­ing arsenic from water from your home is para­mount, par­tic­u­lar­ly if lev­els are detect­ed above the EPA lim­it. Arsenic removal from water is crit­i­cal due to its link to can­cer of the blad­der, lungs, skin, kid­ney, nasal pas­sages, liv­er and prostate. Non-can­cer effects can include thick­en­ing and dis­col­oration of the skin, stom­ach pain, nau­sea, vom­it­ing, diar­rhea, numb­ness in hands and feet, par­tial paral­y­sis and blind­ness.
There are dif­fer­ent forms of arsenic in water, the deter­mi­na­tion of which will dic­tate the most effec­tive tech­nol­o­gy to remove arsenic from your water. You will need an accu­rate water test from a cer­ti­fied test­ing lab to reveal which type of arsenic is in your sup­ply. Arsenic is typ­i­cal­ly iden­ti­fied as ASIII (Arsenic Three) or ASV (Arsenic Five). Again, the appro­pri­ate water tech­nol­o­gy and approach will be deter­mined by these find­ings.
The EPA does not reg­u­late pri­vate drink­ing wells; the respon­si­bil­i­ty lies with you for test­ing and mon­i­tor­ing. For more detail on remov­ing arsenic from water, see our Water Tech­nol­o­gy Mag­a­zine Arsenic removal arti­cle.
Arsenic removal from well water can be com­pli­cat­ed, but it can be achieved with proven tech­nolo­gies. The exact tech­nol­o­gy or com­bi­na­tion of tech­nolo­gies is deter­mined by the spe­cif­ic analy­sis of your source water. Reverse osmo­sis, Ion exchange with arsenic-spe­cif­ic media, coag­u­la­tion and oxi­da­tion are some avail­able tech­nolo­gies used to achieve the desired arsenic removal from water. To remove arsenic at the point of entry into the home, tanks con­tain­ing arsenic-spe­cif­ic media sim­i­lar to that pic­tured above are installed. The media inside the tanks will "grab" the arsenic out of the water. For "point-of-use" drink­ing water, a reverse osmo­sis sys­tem can be installed to remove the arsenic.
There are two forms of arsenic in well water: Arsenic III and Arsenic V. The design of the sys­tem will be deter­mined by the amount of arsenic detect­ed, the type of arsenic, the pro­ject­ed vol­ume of water usage and lev­els of oth­er con­t­a­m­i­nants detect­ed. An analy­sis of your water test results from a cer­ti­fied lab will deter­mine the appro­pri­ate method to effec­tive­ly remove the arsenic. An effec­tive, safe and reli­able sys­tem can be installed to put your mind at ease.
It is equal­ly impor­tant that the sys­tem be plumbed in cor­rect­ly and main­tained prop­er­ly with appro­pri­ate test­ing inter­vals.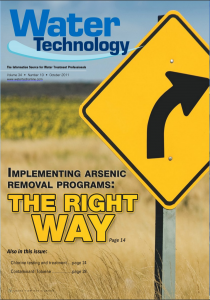 For more infor­ma­tion on Arsenic in water, see Arsenic Facts
The

H2O

Care Difference
H2O Care, Inc., has over 9,000 sat­is­fied cus­tomers in the New Eng­land region because we under­stand water prob­lems that are spe­cif­ic to this region and we guar­an­tee our work. Whether the prob­lem is iron, man­ganese, radon, hard water or just taste and odor issues, we will deter­mine which type of water soft­en­er or water fil­tra­tion sys­tem will work best.
We install many types of home water fil­tra­tion sys­tems to cor­rect your water qual­i­ty prob­lems and ful­fill your family's needs. Our on-staff Licensed Plumbers guar­an­tee that our instal­la­tions are com­plet­ed with excep­tion­al qual­i­ty and work­man­ship. Trained Ser­vice Pro­fes­sion­als are on call 24/7.