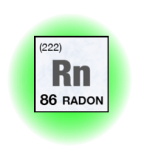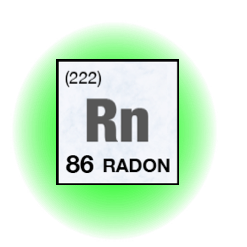 REMOVE

RADON

FROM

WELL

WATER
Radon removal is cru­cial, as it is a very dan­ger­ous gas and not detectable with­out prop­er lab test­ing. It has no col­or, odor or taste and comes from the nat­ur­al radioac­tive break­down of ura­ni­um in the ground. You can get exposed to radon through two main sources: radon in the air in your home and radon in water, which escapes into the air as it is used for show­er­ing, wash­ing dish­es, laun­dry, etc. Radon removal from water can be effec­tive­ly imple­ment­ed with prop­er diag­no­sis, sys­tem spec­i­fi­ca­tion and pro­fes­sion­al plumb­ing work.
You also may be at risk because of the soil under your home. As ura­ni­um breaks down, radon gas forms and can seep into the house through cracks in the foun­da­tion, floors, walls, etc. Radon from soil can get into any type of build­ing: homes, offices and schools, with the abil­i­ty to build up to high lev­els in the air inside the build­ing.
If radon gas gets into your water sup­ply, every time you take a show­er, do dish­es, the laun­dry, etc., the radon gas will escape the water and enter your home. Breath­ing in radon gas has been linked to lung can­cer and it has been deter­mined to be the lead­ing cause of lung can­cer among non-cig­a­rette smok­ers. For a detailed report, see the link at Radon In Water- Amer­i­ca Soci­ety of Home Inspec­tors
Breathing Radon in Indoor Air can Cause Lung Cancer
It is esti­mat­ed that around 20,000 deaths a year in the U.S. are caused by breath­ing radon in indoor air. Radon in indoor air is the sec­ond lead­ing cause of lung can­cer. See the fol­low­ing link for more infor­ma­tion about radon
Testing for Radon in Water
Speak to your H2O Care water treat­ment pro­fes­sion­al about get­ting a prop­er water sam­ple and to ensure that a Cer­ti­fied Lab­o­ra­to­ry is uti­lized for test­ing the sam­ple. An improp­er­ly tak­en water sam­ple can ren­der the test results unre­li­able. Addi­tion­al­ly, get­ting the water sam­ple to the lab with­in the required time peri­od for test­ing is also crit­i­cal with radon for a reli­able test result. We can go over the results with you and deter­mine the most effec­tive approach for you to remove radon from water.
Radon Removal from Well Water
There are two types of point-of-entry devices that can be installed for radon removal from water: gran­u­lar acti­vat­ed car­bon (GAC) fil­ters (which use acti­vat­ed car­bon to remove the radon from water) and aer­a­tion devices (which bub­ble air through the water and force out radon gas into a sealed cham­ber, then safe­ly into the atmos­phere through an exhaust fan to vent pip­ing). As car­bon retains the radon as it pass­es through it, the poten­tial for build-up and sub­se­quent release of radon gas back into the home makes this method the least desir­able of the two and high­ly dis­cour­aged.
H2O Care installs sys­tems for your home or busi­ness to remove radon from water and elim­i­nate the threat posed by radon expo­sure.
PROFESSIONAL

INSTALLATION

BY

ON-STAFF

LICENSED

PLUMBERS
Prop­er instal­la­tion and vent­ing to out­side of the home is crit­i­cal for effec­tive and safe radon removal from water. We install many types of home water fil­tra­tion sys­tems to cor­rect var­i­ous water qual­i­ty prob­lems. Our on-staff Licensed Mas­ter & Jour­ney­man Plumbers can assure you that our instal­la­tions are com­plet­ed safe­ly and with excep­tion­al qual­i­ty and work­man­ship.
Trained Ser­vice Pro­fes­sion­als are on Call 24/7
H2O Care is always avail­able for rou­tine main­te­nance and to resolve any unfore­seen prob­lems. We are extreme­ly com­mit­ted to pro­vid­ing cus­tomer ser­vice that meets or exceeds expec­ta­tions and we believe this has been the key to our suc­cess as an orga­ni­za­tion since 1989.
Radon in Air:
If you are con­cerned about radon removal from your home's air, ask your H2O Care rep­re­sen­ta­tive for the name of a high­ly skilled air mit­i­ga­tion con­trac­tor in your area.