RADON
IN
WATER
REMOVAL
OPTIONS

Many home­own­ers are sur­prised when they dis­cov­er they have radon in their well water. As radon in water is col­or­less, odor­less, and taste­less, the need for a water test is all the more crit­i­cal. Radon is a radioac­tive gas which comes from the nat­ur­al decay of ura­ni­um found in near­ly all soils. Radon in water is not a prob­lem until the gas escapes the water as it enters your home through faucets, show­ers, bath­tubs, wash­ing machines, etc. Radon is a health threat that must be tak­en care of in your Berlin home. To reme­di­ate radon in water, a prop­er­ly designed sys­tem that agi­tates the radon gas out of the water then vents it to out­side of the home is the pre­ferred and safest approach to cor­rect­ing this prob­lem. These sys­tems are installed in the base­ment at the water's point of entry into the home.
RADON typ­i­cal­ly moves up through the ground to the air above and into your home through cracks and oth­er holes in the foun­da­tion, even ones you can­not see. It can also get into your home through well water when you turn on your show­er and oth­er water using points inside your home. Your home may trap radon inside where con­cen­tra­tions lev­els can build up. Any home may have a radon in water or radon in air prob­lem; new & old homes, well sealed and drafty homes, and homes with­out or with base­ments. Radon in water is not an uncom­mon occur­rence in Berlin wells. (for more infor­ma­tion about this top­ic, see the fol­low­ing link: Arti­cle Link.)
Contaminant Guideline Levels by State (in pCi/L as of 7/7/2016)
Mass­a­chu­setts = 10,000 pico curries/liter
New Hamp­shire = 2,000 " "
Maine = 4,000 " "
Rhode Island = 4,000 " "
Any home may have a radon problem from such sources as:
1. Cracks in walls
2. Cracks in sol­id floors
3. Con­struc­tion joints
4. Gaps in sus­pend­ed floors
5. Gaps in ser­vice pipes
6. Spaces inside walls
7. In your water sup­ply as gas is released into the air in the home.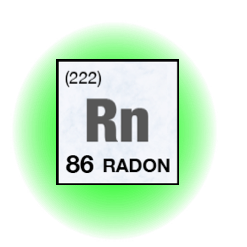 RADON

STUDIES

,

RISKS

&

OTHER

CONCERNS

The Mass­a­chu­setts Depart­ment of Pub­lic Health Radi­a­tion Con­trol Pro­gram per­formed a 1988 study in con­junc­tion with the EPA. The data gath­ered from that study esti­mates that 1 out of 4 homes may have lev­els above the 4.0 Pico curries/L in air action lev­el. How­ev­er, the only way to know if your home has a prob­lem is to per­form a test.

Radon is a Class A car­cino­gen and the sec­ond lead­ing cause of lung can­cer. The increased risk of devel­op­ing lung can­cer from radon is direct­ly relat­ed to the con­cen­tra­tion of radon and the length of time that a per­son is exposed to it. The U.S. Envi­ron­men­tal Pro­tec­tion Agency (EPA) esti­mates that there are between 5,000 and 30,000 radon-relat­ed lung can­cer deaths each year. Radon is the num­ber one cause of lung can­cer in non-smok­ers.

Cig­a­rette smok­ers have eight times the risk from radon as non-smok­ers. There­fore, cig­a­rette smok­ers in par­tic­u­lar, should keep their expo­sure to radon as low as pos­si­ble. If the home was test­ed in an infre­quent­ly used base­ment, it may have mea­sured a radon lev­el that is high­er than the actu­al lev­el you are exposed to, spend­ing most of your time upstairs. Peo­ple with young chil­dren should be more con­cerned with the pos­si­ble con­se­quences of radon expo­sure 20 years from now than some­one in their late six­ties or sev­en­ties. Fam­i­lies with a hered­i­tary pre­dis­po­si­tion of can­cer should be more con­cerned about radon expo­sure than fam­i­lies who don't have any his­to­ry of can­cer.

Although no lev­el of radon in water or air is con­sid­ered absolute­ly safe, the USEPA action lev­el for radon is 4.0 pic­ocuries per liter of AIR (pCi/L). (pCi/l= pic­ocuries per liter, the most com­mon method of report­ing radon lev­els. A pico Curie is 0.000,000,000,001 (one-tril­lionth) of a Curie, an inter­na­tion­al mea­sure­ment unit of radioac­tiv­i­ty. One pCi/l means that in one liter of air there will be 2.2 radioac­tive dis­in­te­gra­tions each minute. For exam­ple, at 4 pCi/l there will be approx­i­mate­ly 12,672 radioac­tive dis­in­te­gra­tions in one liter of air, dur­ing a 24-hour peri­od.)

The risk of devel­op­ing lung can­cer at 4.0 pCi/L in AIR is esti­mat­ed at about 7 lung can­cer deaths per 1000 per­sons, which is why the USEPA and IEMA rec­om­mend reduc­ing your radon lev­el if the con­cen­tra­tion is 4.0 pCi/L or more.
Some common myths about radon:
MYTH: Sci­en­tists are not sure that radon real­ly is a prob­lem.
FACT: Although some sci­en­tists dis­pute the pre­cise num­ber of deaths due to radon, all the major health orga­ni­za­tions (like the Cen­ters for Dis­ease Con­trol and Pre­ven­tion, the Amer­i­can Lung Asso­ci­a­tion and the Amer­i­can Med­ical Asso­ci­a­tion) agree with esti­mates that radon caus­es thou­sands of pre­ventable lung can­cer deaths every year. This is espe­cial­ly true among smok­ers, since the risk to smok­ers is much greater than to non-smok­ers.
MYTH: Homes with radon in water and/or in air can't be fixed, or can­not be fixed eco­nom­i­cal­ly.
FACT: There are solu­tions to radon prob­lems in homes. Thou­sands of home­own­ers have already fixed radon prob­lems in their homes. Costs to remove radon can range from sev­er­al hun­dred to sev­er­al thou­sand dol­lars depend­ing on the source, plumb­ing and vent­ing con­sid­er­a­tions.
MYTH: Radon is only a prob­lem in cer­tain parts of the coun­try.
FACT: High radon lev­els have been found in every state.
MYTH: A neighbor's test result is a good indi­ca­tion of whether your home has a prob­lem.
FACT: Radon lev­els vary great­ly from home to home. The only way to know if your home has a radon prob­lem is to test it.
MYTH: It is dif­fi­cult to sell homes where radon prob­lems have been dis­cov­ered.
FACT: Many types of prob­lems can hin­der a home sale, but when the prob­lems are fixed before the home is list­ed, the sales are not slowed down. It is the same for radon. All homes should be test­ed for radon, and those with prob­lems fixed before being list­ed for sale. Radon should be test­ed not only inside the home, but if there is a pri­vate well, test­ing for radon in water is imper­a­tive. Radon in water is not uncom­mon in pri­vate wells in Mass­a­chu­setts, New Hamp­shire or Maine.
MYTH: I've lived in my home for so long, it doesn't make sense to take action now.
FACT: You will reduce your risk of lung can­cer when you reduce radon lev­els, even if you've lived with a radon prob­lem for a long time.
MYTH: Short-term tests can­not be used for mak­ing a deci­sion about whether to fix your home.
FACT: Short term tests can be used to decide whether to fix your home, and for high­er radon lev­els (8 pCi/l or high­er) that is all that should be used. Keep in mind that, even though the action lev­el is 4, this is not a "safe" lev­el and that radon lev­els below 4 pCi/l still pose some risk. Radon lev­els in most homes can be reduced to 2 pCi/l or less.
Test­ing for radon in water can be a lit­tle tricky. There can be absolute­ly no air bub­bles in the water sam­ple con­tain­er and the sam­ple should be test­ed with­in 24 hours of the time the sam­ple was pulled. A water treat­ment pro­fes­sion­al can assist you in this process and also help you ana­lyze the lab test results.

H2O

Care is an established full service water filtration and testing organization, originally formed in 1989 with offices in Hudson and Middleton,

MA

.. See our written and published articles about common regional water contaminants in Water Technology Magazine by going to our website, http://h2ocare.wpengine.com and going to the publications tab at the top of the home page.

You can

reach us by email at [email protected] or call us at

800–539-1100.