WATER
SOFTENING
The pri­ma­ry hard water min­er­als are mag­ne­sium and cal­ci­um (the hard­ness min­er­als), while iron and man­ganese ("the stain­ers") can also be found in Fram­ing­ham water, most­ly in pri­vate wells. These con­t­a­m­i­nants can be removed with a water soft­en­er and/or a prop­er­ly spec­i­fied sed­i­ment fil­ter depend­ing on whether the contaminant's form is in solu­tion or par­tic­u­late.
A water test and analy­sis will deter­mine the best course of action. A water soft­en­er will improve your water great­ly if you have hard water min­er­als, iron, or man­ganese in your water. If oth­er impu­ri­ties are con­firmed in the water test, they can be removed with oth­er types of water fil­tra­tion sys­tems.
Hard water inter­feres with many clean­ing tasks, from doing the laun­dry to wash­ing dish­es to tak­ing a show­er. Wash­ing your hair in hard water may leave it feel­ing sticky and dull. Dish­es and glass­es get spot­ted and a film may build up on show­er doors, bath­tubs, sinks and faucets. Clothes can look dingy and feel rough and scratchy. Hard water can also cause a residue to build-up in pipes that can low­er water pres­sure.
Cal­ci­um and mag­ne­sium may have major affects on your home's plumb­ing and your abil­i­ty to clean, even though the EPA has no pub­lished lim­its on these. The max­i­mum allow­able lev­el (per the Envi­ron­men­tal Pro­tec­tion Agency) for iron as a sec­ondary con­t­a­m­i­nant is .3 parts per mil­lion and for man­ganese is .05 parts per mil­lion. Small amounts of these min­er­als can have very notice­able, even dam­ag­ing affects on your home's water qual­i­ty.
Water soft­en­ers vary, includ­ing up-flow ver­sus down-flow which can make a big dif­fer­ence, par­tic­u­lar­ly if there are ele­vat­ed lev­els of iron or man­ganese in the water. In some cas­es where the water chem­istry is more com­pli­cat­ed, a dif­fer­ent type of water fil­tra­tion sys­tem may make more sense to remove iron or man­ganese.
The fol­low­ing iden­ti­fies hard water lev­els.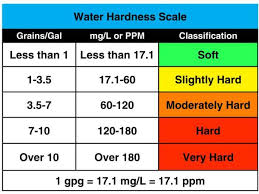 THE

AFFECTS

OF

IRON

,

MANGANESE

AND

HARD

WATER

Scale from hard water can build-up inside water heaters insu­lat­ing the tem­per­a­ture sen­sor inside the tank cre­at­ing extra work to bring the tem­per­a­ture up to the set lev­el. This reduces the life of your hot water heater and will like­ly require ear­ly replace­ment. Some oth­er affects of these con­t­a­m­i­nants include cor­ro­sion and scal­ing inside pipes and major stain­ing through­out the home's show­ers, bath­tubs, and sinks. For those using their well water for lawn irri­ga­tion, iron and man­ganese can cause major stain­ing of walk­ways, sid­ing and any­place the water touch­es. See the link at http://h2ocare.com/lawn-irrigation/. Hydro­gen Sul­fide is evi­denced typ­i­cal­ly by a rot­ten egg smell in water, how­ev­er this may also be caused by high Man­ganese lev­els in the water as well. A water fil­tra­tion specif­i­cal­ly for this prob­lem is effec­tive in cor­rect­ing this.
WHAT

A

WATER

SOFTENER

WILL

REMOVE

A water soft­en­er effec­tive­ly removes dis­solved forms of iron & man­ganese and hard­ness min­er­als from the water. To remove par­tic­u­late iron or man­ganese, water fil­tra­tion uti­liz­ing a car­tridge fil­ter with prop­er micron rat­ing will be effec­tive. Depend­ing on the sit­u­a­tion, this could require a series of fil­ters with dif­fer­ent size micron rat­ings to han­dle heav­ier lev­els of dif­fer­ent sized par­ti­cles in the water. Select­ing an appro­pri­ate micron rat­ing and style of fil­ter can be deter­mined by a water treat­ment pro­fes­sion­al based on water test results and oth­er symp­toms. For more infor­ma­tion on Iron and Man­ganese in water, see our pub­lished arti­cles in Water Tech­nol­o­gy Mag­a­zine at the fol­low­ing link: http://h2ocare.com/publications/
WHAT

DOES

A

WATER

SOFTENER

NOT

REMOVE

?

A water soft­en­er will not remove the health threat con­t­a­m­i­nants Radon and Arsenic which may be found in Fram­ing­ham pri­vate wells and will require dif­fer­ent water fil­tra­tion tech­nolo­gies. Arsenic in water can be removed at the point of entry into the home with tanks filled with arsenic spe­cif­ic resin that cap­tures the arsenic before it can get into the home's water sup­ply. Point of use sys­tems for drink­ing water can use reverse osmo­sis tech­nol­o­gy to effec­tive­ly remove arsenic. Radon can be safe­ly removed with an aer­a­tion sys­tem that agi­tates the incom­ing well water, releas­ing the gas from the water in a sealed cham­ber, then safe­ly vent­ing it to the out­side ambi­ent air. Speak to a water treat­ment pro­fes­sion­al to decide which sys­tem is right for you.
Formed in 1989,

H2O

Care is an established Massachusetts based water filtration and testing firm with offices in Hudson

&

Middleton,

MA

. Articles published by the Company can be seen in Water Technology Magazine or linked through the website publications section at http://h2ocare.wpengine.com. You can contact us by Email at [email protected] or call us at

800–539-1100.