WATER
SOFTENER
FOR
HARD
WATER
This report is pri­mar­i­ly focused on water soft­en­ers and the water qual­i­ty issues in Sud­bury, MA that may be addressed with them. Also includ­ed is some back­ground infor­ma­tion on the pub­lic water sup­ply and issues that may be applic­a­ble even if you have a pri­vate well.
SOURCES
OF
WATER
Per the Sud­bury Annu­al Water Qual­i­ty Reports, Sudbury's water is obtained from nine grav­el packed ground wells locat­ed in three sep­a­rate aquifers; these aquifers are known as Ray­mond Road, Hop Brook and Great Mead­ow. There are four stor­age tanks locat­ed through­out town with a stor­age capac­i­ty rang­ing from 0.35 to 3.0 mil­lion gal­lons and total­ing 6.35 mil­lion gal­lons. If your water is sup­plied by your own pri­vate well, much of the fol­low­ing infor­ma­tion is like­ly to apply to your water as well.
As there are vari­a­tions in the water qual­i­ty among the nine sources of pub­lic water in Sud­bury, treat­ment sys­tems are designed to specif­i­cal­ly address the type and amount of con­t­a­m­i­nants present at each site. Fol­low­ing treat­ment, water is pumped to ele­vat­ed stor­age tanks for dis­tri­b­u­tion to your home. When tanks are full, the pumps at the wells shut off and water is fed to cus­tomers from the tanks. As soon as demand brings tank lev­els to the "start" lev­el, the pumps restart and the cycle begins again. In order to per­form sched­uled and emer­gency main­te­nance oper­a­tions, the spe­cif­ic wells select­ed to be in ser­vice at any time will vary. There­fore the water deliv­ered to your home does not nec­es­sar­i­ly orig­i­nate at a sin­gle point but rather is a blend of a num­ber of wells.
WATER

SOFTENER

FOR

REMOVING

HARD

WATER

,

IRON

&

MANGANESE

Hard water con­t­a­m­i­nants found in the well water sup­ply­ing homes in Sud­bury can be removed with a water soft­en­er. The main hard water min­er­als are mag­ne­sium and cal­ci­um. EPA (Envi­ron­men­tal Pro­tec­tion Agency) has no max­i­mum lev­els set for cal­ci­um and mag­ne­sium in drink­ing water. With­out water soft­en­ing, these min­er­als can have dev­as­tat­ing affects on your home's plumb­ing as well as your abil­i­ty to clean. Hard water inter­feres with almost every clean­ing task, includ­ing wash­ing dish­es, laun­dry and tak­ing a show­er. Clothes can look dingy and feel rough and scratchy. Dish­es and glass­es get spot­ted and film may build up on show­er doors, bath­tubs, sinks and faucets. Wash­ing your hair in hard water may leave it feel­ing sticky and dull. Final­ly, hard water can cause a scale build-up in pipes that can low­er water pres­sure through­out the house. Also com­mon­ly found in Sud­bury are iron & man­ganese. The EPA max­i­mum allow­able lev­el for iron as a sec­ondary con­t­a­m­i­nant is .3 parts per mil­lion. The EPA max­i­mum allow­able lev­el for man­ganese as a sec­ondary con­t­a­m­i­nant is .05 parts per mil­lion. Small amounts of these min­er­als can have large affects on your home's water qual­i­ty. Hydro­gen Sul­fide is evi­denced typ­i­cal­ly by a rot­ten egg smell in your water, how­ev­er this may also be caused by high Man­ganese lev­els in the water as well.

There are dif­fer­ent types of water soft­en­ers, includ­ing up-flow (pre­ferred) ver­sus down-flow. This can make a big dif­fer­ence in effec­tive­ness if there are ele­vat­ed lev­els of man­ganese or iron in the water. Addi­tion­al­ly, a high effi­cien­cy water soft­en­er will use much less salt and water in the equipment's regen­er­a­tion cycle. For a full dis­cus­sion on hard water, see the link at Hard water described.

The fol­low­ing cat­e­go­rizes hard water lev­els. Com­pare your test results: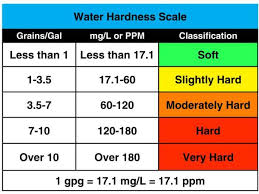 THE

AFFECTS

OF

HARD

WATER

,

IRON

&

MANGANESE

Some affects of hard water, iron & man­ganese include cor­ro­sion and scal­ing inside pipes. Addi­tion­al­ly, you may expe­ri­ence major stain­ing through­out the home's show­ers, bath­tubs, and sinks and destruc­tion of hot water heaters way ahead of their use­ful life. Hard water scale can also build-up inside hot water heaters insu­lat­ing the tem­per­a­ture sen­sor inside the tank caus­ing them to work much hard­er to bring the tem­per­a­ture up to the set lev­el. With­out a water soft­en­er, this will reduce the use­ful life of your hot water heater and require ear­ly replace­ment. For those using their well water for out­side lawn irri­ga­tion, iron and man­ganese can cause major stain­ing of out­side walk­ways, house sid­ing and any­place the water touch­es. See link at http://h2ocare.com/lawn-irrigation/

Due to this switch­ing among the nine wells, you may see vari­a­tions in the water qual­i­ty as you turn faucets on in your home at dif­fer­ent points in time. You may see some evi­dence of hard water scale on plumb­ing fix­tures, iron/manganese stain­ing or bluish green stains (from low pH) in sinks, tubs, etc. All of these are cor­rectable sit­u­a­tions with the prop­er­ly designed water fil­tra­tion sys­tem or water soft­en­er instal­la­tion. Due to the chang­ing water qual­i­ty as described above from var­i­ous water sources, it is par­tic­u­lar­ly impor­tant that any water fil­tra­tion or water soft­en­er sys­tem is designed with this in mind.
Minimizing Lead Exposure
If present, ele­vat­ed lev­els of lead can cause seri­ous health prob­lems, espe­cial­ly for preg­nant women and young chil­dren. Lead in drink­ing water is pri­mar­i­ly from mate­ri­als and com­po­nents asso­ci­at­ed with ser­vice lines and home plumb­ing. Sud­bury Water Dis­trict is respon­si­ble for pro­vid­ing high qual­i­ty drink­ing water, but can­not con­trol the vari­ety of mate­ri­als used in res­i­den­tial plumb­ing com­po­nents. When your water has been sit­ting for sev­er­al hours, you can min­i­mize the poten­tial for lead expo­sure by flush­ing your tap for 30 sec­onds to 2 min­utes before using water for drink­ing or cook­ing. If you are con­cerned about lead in your water, you may wish to have your water test­ed. Infor­ma­tion on lead in drink­ing water, test­ing meth­ods, and steps you can take to min­i­mize expo­sure is avail­able from the Safe Drink­ing Water Hot­line or at http://www.epa.gov/safewater/lead.
H2O

Care is an established Massachusetts based water filtration and testing firm with offices in Middleton

&

Hudson,

MA

, formed in 1989. Articles published by the Company can be seen in Water Technology Magazine or linked through the website publications section at http://h2ocare.com/publications/. Note: New Hudson,

MA

office opened on 439 Main St. (rte. 62) in May, 2017