As is the case with most water in Massachusetts, there are certain common minerals and contaminants that find their way into the Wellesley, MA water supply which may require a water filtration system or water softener to remove them.
Public Water Supply Sources
The Wellesley municipal water supply comes from ten wells within the town and from the regional Massachusetts Water Resources Authority (MWRA), while Wellesley College has its own water supply.  The MWRA gets its water from the Quabbin and Wachusett Reservoirs in central Massachusetts.  In 2014, 78% of Wellesley's water came from local supplies with 22% coming from the MWRA. For more detail from the 2014 Annual Drinking Water Consumer Awareness Report, go to the link at Wellesley Annual Water Report.
HARD WATER, IRON NOT UNCOMMON IN WELLESLEY
Compare to your water test: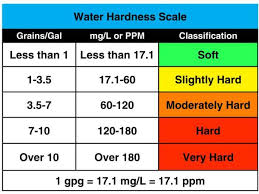 Water from the yellow through red section may result in scaling on plumbing fixtures and inside pipes, dull laundry, and make it "harder to clean" than with soft water. This is no fault of the town, but just the cards they have been dealt (For more information on hard water, see the link at the Water Quality Association website at WQA Hard Water Information.  It is also possible to get some sediment build-up that may cause faucet screens and shower heads to clog up.
Public water suppliers must add chemicals to the water to disinfect, or kill dangerous bacteria and other potentially harmful substances in the water as well as for controlling pipe corrosion and other purposes.  The net result of this is safe water, but may include aesthetically displeasing tastes and odors, etc.  Chlorine is probably the most typical of these chemicals.  For more information on the treatment processes uses in Wellesley's water supply and other information, see the link at http://www.wellesleyma.gov/Pages/FOV1-0001FDB3/wat/faq
Effective Water Softener and Water Filtration Systems
Water Softeners and Water filtration systems can be installed in Wellesley homes or businesses for the removal of any of the contaminants discussed above and more.  Water softeners are typically installed to remove dissolved iron or manganese in the water through a technology called Ion Exchange.  Sediment water filtration systems will remove particulate iron or manganese in the water.  Carbon water filtration systems will remove chlorine from the water, eliminating the odor and taste associated with it.   Hydrogen Sulfide is evidenced typically by a rotten egg smell in your water, however this may also be caused by high Manganese levels in the water as well.  A water filtration specifically for this problem is effective in correcting this.  Other technologies and systems may be required to remove other contaminants if present in the water.  Any water filtration system designed should start with a water test before an informed recommendation can be made.
H2O Care is an established water filtration and testing firm with offices in Middleton & Hudson, MA, formed in 1989.  Articles published by the Company can be seen in Water Technology Magazine or linked through the website publications section at http://www.h2ocare.com