Bristol County Water Quality Issues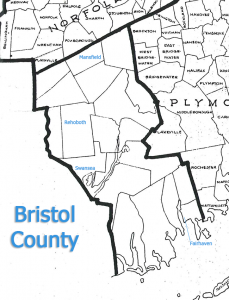 The vast majority of homes and buildings in Bristol County were built before 1939, with many of them being over 100 years old along with their supporting water supplies!
Bristol County, Massachusetts Health Index
Air quality in Bristol County, Massachusetts is 86 on a scale to 100 (higher is better). This is based on ozone alert days and number of pollutants in the air, as reported by the EPA.
Water quality in Bristol County, Massachusetts is 47 on a scale to 100 (higher is better). The EPA has a complex method of measuring watershed quality using 15 indicators.
Some of the common contaminants found in private well water needing water filtration or water softening in towns such as Taunton, Berkley, Dighton, Freetown, Lakeville and others include Arsenic, Radon, High Iron, Manganese and Low pH. Remediation of these problems can be achieved with water softeners and other water filtration systems for pH neutralization, arsenic specific resin for the removal of arsenic from well water, radon removal systems and reverse osmosis purification.
Have your water supply tested for contaminants by contacting a H2O Care  treatment professional. If it is a health threat related contaminant such as Arsenic or Radon, we can help you prepare a proper sample to send to a state certified laboratory and assist in interpreting the results. Proper sampling requires certain procedures and time limitations to pull a reliable sample. For basic water testing for pH, Iron, Manganese, Hardness or Total Dissolved Solids, we offer complimentary water tests to Bristol, Essex, Middlesex, Suffolk, Norfolk, Worcester and Plymouth counties.  Once test results become available for analysis, the proper water softener or water filtration system can be recommended.
For information about arsenic in well water see the link at http://www.mass.gov/eea/agencies/massdep/water/drinking/arsenic-in-private-well-water-faqs.html
Call H2O Care at (800) 539-1100,  or Email us today.