SALT
WATER
INTRUSION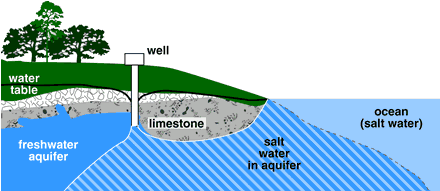 Where Saltwater Intrusion Occurs
Salt water intru­sion occurs in coastal fresh­wa­ter aquifers when the dif­fer­ent fresh­wa­ter and salt water den­si­ties allow the intru­sion of ocean water into the fresh­wa­ter aquifer. These areas typ­i­cal­ly sup­port pop­u­la­tions where the ground­wa­ter demand from these aquifers exceeds the recharge or replen­ish­ment rate of fresh water. This can become more like­ly when the water is being used for in-house use as well as lawn irri­ga­tion. Irri­gat­ing with salty water will destroy grass, trees, and plants.
What about all the road salt after a rough win­ter? Although it's not as com­mon as salt­wa­ter intru­sion from the ocean, it is pos­si­ble for road salt to get into your water sup­ply. This could only hap­pen, how­ev­er, if your water comes from a pri­vate well and an abun­dance of road salt has been used over the last few months.
Aquifers are nat­u­ral­ly replen­ished by pre­cip­i­ta­tion and sur­face waters that sat­u­rate into the ground and work their way through the soil, rocks, etc. to the water table. The encroach­ing sea­wa­ter will encounter an area known as the zone of dis­per­sion, where the fresh­wa­ter and salt­wa­ter mix. This inter­face moves back and forth nat­u­ral­ly because of fluc­tu­a­tions in the recharge rate of fresh­wa­ter back into the aquifer. The illus­tra­tion above shows what this salt water intru­sion looks like under­ground.
SALT

WATER

INTRUSION

DESALINATION
There are many homes with pri­vate wells near coastal areas where there is no access to pub­lic water sup­plies because of dis­tance to the water dis­tri­b­u­tion sys­tem or oth­er rea­sons. When the well expe­ri­ences salt water intru­sion, the proven and test­ed tech­nol­o­gy to desali­nate the water is reverse osmo­sis, a mem­brane tech­nol­o­gy that was invent­ed in the 1950s specif­i­cal­ly for sea water desali­na­tion. A sys­tem designed to treat the water at the point of entry into the home will cor­rect this salt water intru­sion. A com­plete water test and analy­sis will deter­mine the required pre-treat­ment pri­or to the reverse osmo­sis mem­brane depend­ing on oth­er min­er­al lev­els in the water. For exam­ple, iron, man­ganese and hard­ness min­er­als may be present and need to be removed (see link for com­mon region­al prob­lems at Com­mon region­al chart). Also, deter­min­ing esti­mat­ed water usage is impor­tant for siz­ing the system's stor­age capac­i­ty and oth­er equip­ment. These sys­tems are so effec­tive, water in the toi­lets will be of high­er qual­i­ty than what most peo­ple drink out of their taps! (See sys­tem pho­to)
If you have noticed salty taste, heavy cor­ro­sion, or a salty build-up on dish­ware or fix­tures, con­tact us to dis­cuss options, costs involved, etc.