WATER
SOFTENER
EFFECTIVENESS
IN
BEVERLY
Hard water con­t­a­m­i­nants found in Bev­er­ly, MA water can be removed with a water soft­en­er. There are dif­fer­ent types of water soft­en­ers, includ­ing up-flow ver­sus down-flow which can make a big dif­fer­ence, par­tic­u­lar­ly if there are ele­vat­ed lev­els of iron or man­ganese in the water. The main hard water min­er­als are mag­ne­sium and cal­ci­um (the hard­ness min­er­als), while iron and man­ganese are also com­mon­ly found in Ipswich. If you have these con­t­a­m­i­nants present in your water, water soft­en­ing will great­ly improve your water qual­i­ty.
The fol­low­ing chart cat­e­go­rizes hard water. Com­pare your water test results: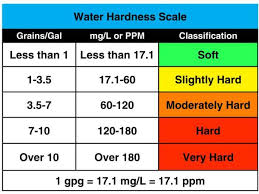 The EPA max­i­mum allow­able lev­els for iron as a sec­ondary con­t­a­m­i­nant is .3 parts per mil­lion and for man­ganese is .05 parts per mil­lion as a sec­ondary con­t­a­m­i­nant. Small amounts of these min­er­als can have very notice­able, even dev­as­tat­ing affects on your home's water qual­i­ty. Cal­ci­um and mag­ne­sium can have very neg­a­tive affects on your home's plumb­ing as well as your abil­i­ty to clean, even though the EPA has no pub­lished lim­its on these. Hard water inter­feres with almost every clean­ing task, from doing the laun­dry to wash­ing dish­es to tak­ing a show­er. Clothes can look dingy and feel rough and scratchy. Dish­es and glass­es get spot­ted and a film may build up on show­er doors, bath­tubs, sinks and faucets. Wash­ing your hair in hard water may leave it feel­ing sticky and dull. Hard water can also cause a residue to build-up in pipes that can low­er water pres­sure through­out the house.
OTHER

AFFECTS

OF

IRON

,

MANGANESE

AND

HARD

WATER

With­out a water soft­en­er, hard water scale can build-up inside hot water heaters insu­lat­ing the tem­per­a­ture sen­sor inside the tank caus­ing them to work much hard­er to bring the tem­per­a­ture up to the set lev­el. With­out water soft­en­ing, this will reduce the use­ful life of your hot water heater and require ear­ly replace­ment. Some of the oth­er affects of these con­t­a­m­i­nants include cor­ro­sion and scal­ing inside pipes, major stain­ing through­out the home's show­ers, bath­tubs, and sinks and destruc­tion of hot water heaters way ahead of their use­ful life. Hydro­gen Sul­fide is evi­denced typ­i­cal­ly by a rot­ten egg smell in your water, how­ev­er this may also be caused by high Man­ganese lev­els in the water as well. A water fil­tra­tion specif­i­cal­ly for this prob­lem is effec­tive in cor­rect­ing this. For those using their well water for out­side lawn irri­ga­tion, iron and man­ganese can cause major stain­ing of out­side walk­ways, house sid­ing and any­place the water touch­es. See the link at http://h2ocare.com/lawn-irrigation/
WHAT

WILL

A

WATER

SOFTENER

EFFECTIVELY

REMOVE

?

Water soft­en­ing is effec­tive in remov­ing dis­solved forms of iron & man­ganese and hard­ness min­er­als. To remove par­tic­u­late iron or man­ganese, a car­tridge fil­ter with prop­er micron rat­ing will be effec­tive as a water soft­en­er is not designed to remove par­tic­u­lates. Depend­ing on the spe­cif­ic sit­u­a­tion, this could require a series of fil­ters with dif­fer­ent size micron rat­ings to han­dle heav­ier lev­els in the water. Select­ing the appro­pri­ate micron rat­ing and style of fil­ter can be deter­mined by a water treat­ment pro­fes­sion­al based on water test results and oth­er symp­toms. For more infor­ma­tion on Iron and Man­ganese in water, see our pub­lished arti­cles in Water Tech­nol­o­gy Mag­a­zine at the fol­low­ing link: http://h2ocare.com/publications/
H2O

Care is an established full service water filtration and testing organization, originally formed in 1989, based in Middleton,

MA

on route 114. See our written and published articles in Water Technology Magazine by going to our website, http://h2ocare.wpengine.com and going to the publications tab at the top of the home page.

H2O

Care has been installing and servicing water softeners and other water filtration equipment since 1989. Contact us by email at [email protected] or by calling us at

978–777-8330.