As is the case with most water in Massachusetts, there are certain common minerals and contaminants that find their way into the Needham, MA water supply which may require a water softener or other water filtration system to remove them.
SOURCES OF NEEDHAM TOWN WATER
Needham draws potable water from two separate sources. The primary source is the Charles River Wellfield, which has been the major source of water since the 1930's. Water is drawn from the wellfield and treated at the adjacent Charles River Water Treatment Facility. The Town's secondary source is the Massachusetts Water Resources Authority (MWRA). The MWRA supply is conveyed through a 36" diameter pipe from the MWRA's Metro West Tunnel in Weston to a booster station on Central Avenue at St. Mary Street. In addition, Needham has emergency connections to provide and receive water from the towns of Wellesley and Dedham, MA. The Needham Annual Water Quality Report can be seen at the following link Needham H2o Quality Report.
The latest available MWRA Annual Water Quality Report can be viewed at the following link MWRA report.  While the water quality is generally pretty good from MWRA, there are issues that may occur causing various types of staining in the home's sinks, bathtubs, toilets, showers and other plumbing fixtures.  Additionally, you may experience taste and odor issues that are commonly associated with chloramine (a chlorine, ammonia compound), which is used to disinfect the water and control bacterial growth.  There is a "Frequently Asked Questions" publication provided by MWRA that reviews what you may encounter at the following link: MWRA Q&A.
WATER SOFTENER WILL CONDITION HARD WATER
The following chart can be used to determine where your water's hardness level is. This can be test for on-site by your water treatment company or by getting a sample to a certified laboratory.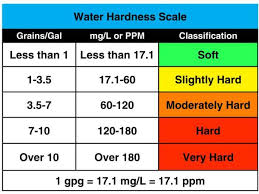 Hard water may result in scaling on plumbing fixtures and inside pipes, dull laundry, and may make it "harder to clean" than with soft water. For more information on hard water, see the link at the Water Quality Association website at http://staging.wqa.org/Learn-About-Water/Perceptible-Issues/Scale-Deposits.
WATER FILTRATION SYSTEMS & WATER SOFTENERS
Water filtration systems can be installed for the removal of any of the potential causes of symptoms you may be experiencing.  A water softener is typically installed to remove hard water minerals (magnesium and calcium) and dissolved iron or manganese in the water through a technology called Ion Exchange. To remove particulate iron or manganese, a properly sized sediment filter is required. Hydrogen Sulfide is evidenced typically by a rotten egg smell in your water, however this may also be caused by high Manganese levels in the water as well. A water filtration specifically for this problem is effective in correcting this. Chlorine or chloramine can be removed with a carbon filtration system to remove bad taste and odor.
Any water filtration system or water softener recommendation should start with a water test before an informed decision can be made.  To determine what type of water testing to have performed and how to take a proper sample, call a water treatment professional or a state certified laboratory.
BAD TASTES & ODORS, SEDIMENT 
In addition to the above systems, there are many other types of systems to remove bad tastes & odors, sediment and many other objectionable minerals and contaminants in the water.  Starting with a water test will dictate the right approach.  For more information on common bad odors & tastes in New England water supplies, see the link at http://h2ocare.com/bad-odor-taste-water/.
In summary, controlling your home's water quality is attainable through proper water testing and equipment specification with today's available water filtration technologies at a reasonable price.  Proper on-going maintenance is also critical to maintain a consistent level of great water quality.
H2O Care is an established water filtration and testing firm with

offices in Hudson & Middleton, MA

, formed in 1989.  Articles published by the Company can be seen in Water Technology Magazine or linked through the website publications section at http://h2ocare.com/publications/.  We can be reached by email at [email protected] or by calling us at

800-539-1100

.